We offer hundreds of different quality products in these categories: Grounds Maintenance Equipment; Tools; Tire Changers And Wheel Balancers; Tractor And Skid Steer Loader Attachments, and Truck Accessories.
Phone Number: 520-510-4128
All Prices Shown as "DELIVERED" include shipping to locations in the US 48 States; other products may be plus shipping as listed.
Items priced plus shipping; For small packages, shipping is calculated by weight of each item. UPS/Fedex shipping calculated for orders up to 100 lbs. shipping to the U.S. only. For truck freight items that are Plus Shipping shipping cost will be shown in a drop down menu on the order page.
Minimum shipping charged at checkout for small parts orders that are plus shipping is currently $15.00.

Extra services paid on truck shipments (lift gate for example), if actual costs are less that what was paid at checkout, you will be refunded the difference.
If you have any questions on how to pay, how items will ship, or any other questions, please e-mail us at: sales@4startools.com
Payment can be made by credit card for U.S. orders up to our limit of $2500.00, all amounts above $2500.00 must be paid by check, money order, bank wire, or financing.


Click any of the three financing buttons on the menu to the left, or scoll Down On This Page and use the links for these companies below.
(Finance Programs Offered Third Part Providers, Please click on the links to apply and see current rates available).
Click the Dollar logo below,
or click the estimated monthly payment number under each product

for financing from the Lease Station (Quick Spark)

Click the link above on the left side of the screen for a financing quote from Direct Capital Company.
Click the Red Credit Card Below To Apply For No Payments For 90 Days From Paramount Financial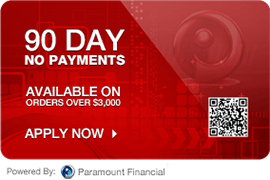 Other Links And Websites Of Interest


Click Here For Parts For Mackissic Products

Click Here For Mclane Mower/Edger Parts
4 Star Tools Phone Number: 520-510-4128